Welcome to Today's WAHM Top 100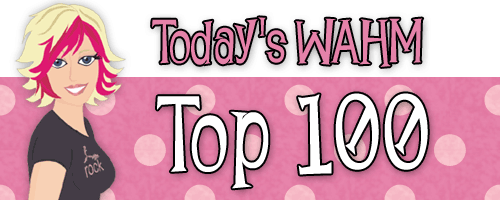 We invite you to add your site to Today's WAHM Top 100 List.
We welcome all WAHM, SAHM, Women in business!



| | | | | |
| --- | --- | --- | --- | --- |
| | | | | |
| | | | | |
| | | | | |
Add Your Site | Member Login
Today's WAHM Top 100 List brought to you by Today's Work at Home Mom.
Providing advertising, marketing, shopping, & social communities for Today's Work at Home Mom.


http://www.todaysworkathomemom.com
Site Of the Moment:
BabyKisses Dolls
Handmade cloth dolls, unique, one-of-a-kind, made safe and durable for even the most active child with many styles to choose from. New feature: Build-A-Babe. Today's Toy - Tomorrow's Treasure (3/4
MMORPG warofhell game

1

MMORPG free online game warofhell.com
Select a race and start playing. Hunt monsters summon them
do alchemy forge weapons beat lords get #1 rank top spot.
build an army. beat your enemies. FREE FOREVER


In: 1717 Out: 2197
Primitive Country Friends

2

Primitive Country Friends Marketplace - Whether you are looking for any special folk art item, candles, dolls, antiques, prim, country decor. We have it all! Browse around and enjoy your visit. Our fr
In: 379 Out: 528
Prim Country Designs

3

Affordable Whimsy Country and Primitive Websets, Logos, Banners, Ads and more!
In: 279 Out: 402
Rabbit Hollow Prims

4

We are makers of fine primitive dolls. I am sure we can meet your primitive doll needs.....
In: 264 Out: 488
Prim DIY Hosting

5

Our DIY sitebuilder and web hosting is an easy way for you to build and maintain your website. We help you step by step to create your own website so you could "Do It Yourself".
In: 242 Out: 278
Top 20 CashBack Shopping Sites

6
Earn CashBack at 1000's of online retailers. Save at Ebay, Hotels.com , Target and many more online stores.
In: 123 Out: 553
Top 100 Small Businesswomen

7
We celebrate small businesswomen. Wahms, country prim, girly boutiques, graphics, printing services, etc., If you are a small businesswoman, add your website.
In: 100 Out: 498
Pennsylvania Primitives

8

From the heart of Southwestern Pennsylvania, we are proud to present our Hand Poured Candles, Prim Home Mists, and handcrafted primitive collection. Quality Primitives for your Home! Wholesale Welcome!
In: 98 Out: 477
Today's Work at Home Mom

9

We are your #1 site for
Today's Work at Home Moms!!

Providing advertising, marketing,
shopping, & social communities for
Today's Work at Home Mom.
Great WAHM & home business resources including
newsletters, classifieds, forums, & more!

In: 92 Out: 550
Farmhouse Primitives

10

Shop with us for fine Colonial and Country Primitive home decor, gifts and accessories. We welcome you to come visit and shop with us! Updates weekly.
In: 72 Out: 389
Bon Bon's Creations

11
Welcome! Enjoy Unique Crafts & Gifts
In: 59 Out: 505
traci*s top 100 fun & funky handmade shops

12

traci*s fun & funky retro handmade websites and shops. this is a fun new top 100 site. add your fun & funky shop now!!
In: 51 Out: 462
Craft Site Medic

13

Providing effective yet economical website promotion services for country crafts, primitive home decor, and WAHM web sites. Banner advertising, plug boards, link exchanges, SEO, top sites, submissions, free webmaster resources, and more.
In: 38 Out: 406
America's Shoppes

14

Online marketplace celebrating American businesses! LOW COST ADVERTISING PACKAGES AVAILABLE! Visit us now!
In: 30 Out: 289
Healthy Little Ones

15

AWARD WINNING!! Unique, professional quality "Do Not Touch The Baby" signs (for preemies & newborns), kids dry erase activity boards (alphabet, numbers, etc.), chore charts, fridge calendars, babysitter & emergency lists, dishwasher tags & MORE for home
In: 30 Out: 301
AllClipART.info

16

Offering exclusive, original and resale clip art. AllClipART is your home for all the names you want at prices you can afford. Designers include: Cheryl Seslar, Alice Smith, Trina Clark, Scrappin Doodles, Primsy Doodle Designs & AllClipART.info. We offer
In: 27 Out: 157
Your Boutique Site

17

Website design & Web Hosting - Affordable and Easy to run e-commerce for your business! We specialize in Hair Bow Websites, Boutique Clothing sites and small business sites.
In: 26 Out: 444
A Primitive Place

18

The perfect place to find True Antique Primitives as well as High Quality reproductions. Also offering (OOAK) One Of A Kind Handmade items.
In: 25 Out: 458
Simple DIY Websites

19

While there are several Do Your Own Websites out there, we are one of the ORIGINALS!! Easy to use, no html knowledge needed!!

In: 24 Out: 539
Quilted Keepsake Ornaments

20

Quilted fabric ball ornaments for all holidays, special occasions and events. Personalize your ornament to make it even more unique with photos. A truly wonderful gift for family and friends. Visit
In: 23 Out: 293

Advertise here~Email amy@todaysworkathomemom.com for details.


The Speckled Goose, Scrapper & Stamper

21

We are proud to offer unique mix of handcrafted paper goods including, greeting cards, for all occasions, journals, gift tags, scrapbook pages, calendars, clipart, webset graphics, printables, and so much more.
In: 22 Out: 422
Scrappy Clipart Central

22

Scrappy Clipart Central is proud to offer affordable clipart, website graphics, and printables, for both commercial use, and personal use without the need for a commercial license. Check out our liberal Terms of Use.
In: 22 Out: 417
1000 Candle Scents-Largest Scented Candle Store

23
Triple Scented Candles, Custom Candles-choose your candle styles, colors, scents & wax type. Strong Scented Votive candles, pillar candles, tarts, floating candles, bakery candles & more.
In: 21 Out: 426
Goofy Grape Gumdrops

24

Goofy Grape Gumdrops offers *FRIDGE CANDY*!
Our yummy scented magnets are like candy for your fridge. Come see what fun whimsical scented magnets we have today!!
In: 21 Out: 430
Sweet N Sassy Clipart

25

Affordable Clipart for all your Crafting and Scrapbooking needs. New clip art and Scrap kits are being added daily. Check us out. There's something for everyone!
In: 21 Out: 255
Divalicious Designs

26
Stylish and Affordable premade blogger templates.
In: 16 Out: 402
shirleyschlumpberger

27

a great selection of handmade raggedies finish dolls country and primitive dolls patterns witchs santa angels snowman and woolfelt Items and contest and more
In: 15 Out: 399
Wall Art From The Heart

28

We sell country, rustic and primitive folk-art framed wall art, signs and sayings. Shop our large selection of Wall Art including country, folk art, primitive, Farmhouse, Barns and Landscape prints.

In: 15 Out: 295
Top Graphics and Webdesign Sites

29

We are a Topsite for Graphics, Clipart, Printables, and Webdesign Sites. Whether you specialize in Country Primitive style or Girly Boutique style, you are welcomed to join us.

In: 14 Out: 45
Mr Momz General Store

30

A warm store filled with primitive and country home decor.
In: 14 Out: 484
Gina's Baskets

31

Handcrafted baskets by Gina, including One-of-a-Kind Antler Baskets you've gotta see to believe! Patterns, Kits, Supplies for you to weave your own baskets! We also bring you unique Barn Wood Picture Frames & Walnut/Apple Picture Frames!
In: 14 Out: 154
Autism Awareness Online

32

Autism Awareness Site
In: 12 Out: 169
Out Of The Box Sampler

33
We cater to finding you the best candle, bath n body and handmade goodies etailers on the web. You'll get 12-15 different samples all in one box. Come visit to see the sale date each month!
In: 12 Out: 302
Resale Clipart

34

Offering Clipart Graphics, Scrapbooking kits, printables, candy wrappers and more all available for reselling with our resellers liscense.
In: 9 Out: 181
Pee Pal Stream Stopper

35

Potty training your little boy can be a daunting task. The multiple daily cleanings of the toilet, the floor, the walls...what a mess! Introducing the Pee Pal Stream Stopper from Healthy Little Ones
In: 9 Out: 20
Embroidery Boutique

36
Unique personalized baby gifts! Bibs, pacifier bibs, burp cloths, blankets, taggies, etc. Personalize with name and design!

In: 8 Out: 326
Bath and Body Bliss

37

Come visit our lil kountry shoppe for handcrafted bath and body lotions, shower gels, natural soap and baby products, room sprays, soy candles and much, much more! Wholesale pricing is available.
In: 7 Out: 311
Purple Passion Enterprises

38

Purple Passion Enterprises features beautiful handmade Swarovski crystal, Swarovski crystal pearls, and Czech fire-polished jewelry including crystal bracelets, watches, earrings, necklaces, anklets, and wine charms.
In: 6 Out: 0
traci*s etsy shop

39

traci*s etsy shop offers custom crafted fun & funky retro magnets along with some wonderful handmades. *Memories are Fun*
In: 6 Out: 327
Teresa's Primitive Treasures

40

Stitches and wood with a Folk Art Style. I enjoy using crows, sheep, pineapples, willows and colonial touches in my work. Tattered prairie dolls, penny rugs, wood items and seasonal treassures.
In: 5 Out: 285
Country Critters And More

41
Hand crafted Country and primitive cloth dolls,bears,rabbits,chickens,snowmen,santa's
~ home decor grapevine & barbwire wreaths~
Embroidery Tea towels and Kitchen potholders

In: 5 Out: 161
Sampler Village Blog

42

Come visit the Sampler Village Blog. Giveaways, Discounts, Links, and Lots of Fun! Hope to see you in the Village soon!
In: 4 Out: 377
Haley's Heavenly Scents

43

Highly scented soy candles, grubby candles, votives, dessert candles, awareness candles, wickless tins, smelly jelly, and wreaths.

In: 3 Out: 170
Freedom Number ~ Toll FREE Numbers

44

We forward Toll Free Numbers to your current Phone to eliminate the cost of an additional phone line!
In: 3 Out: 183
The Gingerbread Barn

45
A wonderful prim collection of homemade candles, soaps, prim decor and more.
In: 3 Out: 230
Cordial Lee

46

You're "Cordial Lee" invited to shop our online Gift Boutique & Print Studio specializing in custom invitations, announcements, personalized stationery, chic accessories, and preppy monogrammed gifts.
In: 3 Out: 171
Baby Thank you and Birth Announcement Photo Cards

47
Personalised photo birth announcements, baptism invitations, christening invitations, birthday invitations and more
In: 3 Out: 0
Print Me Prim

48

Your one stop shop for all your professional LASER printing needs!
In: 3 Out: 158
Wicked Soy - Candles & Melts

49

We sell 100% All Natural Soy Wax Candles and Melts/Tarts. 20% OFF all first orders! Free Postage for orders over $45. Huge Range of Fragrances to choose from. Toxin-Free & Eco-Friendly! Proudly Australia Made & Owned! Wholesale available!
In: 2 Out: 273
Enchanted Confections

50
Deliciously Delectable handmade Chocolates
In: 2 Out: 92
Page: [1]
2
Last Update: Tue, 05.11.21 7:27
Next Update: Tue, 05.11.21 8:27
Next Reset: never
Sites: 91
Powered By GoTop100.com